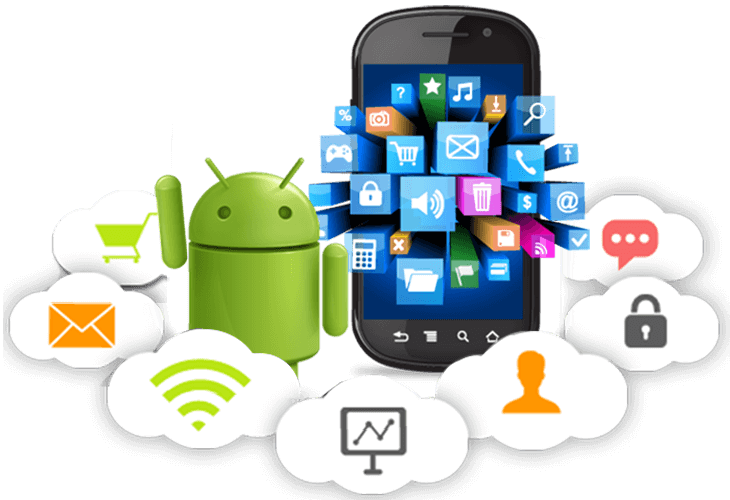 We Develop Great Mobile Apps for Great Brands
Powering 2 Billion mobile devices across the globe, Android inevitably stands out as one of the most sought-after platforms for mobile app development. eDesign Innovative is one of the great leading Android app development company in Pakistan empowering the businesses of a global clientele with innovative, scalable, and interactive mobility solutions for years. Reach us for industry-standard android app development services at a competitive rate.
Our Range of Android Application Development Services
We address all your Android application development needs. Take a look at the following passages to know our suite of services.
Custom App Development
Looking to craft spectacular and user-friendly Android apps? We offer you diverse tailor-made solutions that run seamlessly across all Android devices. Our expert team has successfully created numerous customized apps for cross-industry verticals within quick turnaround time. We efficiently address the specific business requisites of small and large enterprises.
Stunning UI/UX
We take pride in possessing extensive experience in UI/UX design. We focus on creating power-packed and reliable Android applications that render superb user experience. Our apps feature futuristic designs with unparalleled functionality. Our skilled UI and UX team closely work to bring your innovative idea into reality.
Feature Extension – integrating APIs
We support your business growth. These days, entrepreneurs seek to launch an MVP (Minimum Viable Product) to achieve a competitive edge and then go on to add features and functionalities as per business requirement. We ensure to offer a scalable mobility solution and can also integrate 3rd party APIs to extend the existing features.
Deployment
Our team works with dexterity while executing Google Play Store deployment. We diligently handle the entire app submission process that involves description, asset listing, etc. to enhance its presence in the app store.
App Testing
We perform rigorous testing to check for bugs and ensure to deliver a glitch-free, market-ready application. Functionality, usability, features, and accessibility – we test the entire spectrum of your app. We relentlessly work to ensure that your application is highly functional across multiple devices and delivers a smooth UX.
Support & Maintenance
Regular maintenance is a part of keeping your app agile and user-friendly at all time. We offer extensive support to ensure your business success. From security review to upgrades, UI changes to bug tracking & fixing, technology tweaks to user-side problem solving – we deliver it all. You focus on your core business development while we optimize your app's performance.